◇ Small sized light weighted.
◇ Having stability in heat restance and moisture
proof.
◇ Mass production of homogeneous components
being realized with superior manufacturing
technique.
◇ Keeping a long life, and will last almost
indefinitely.
◇ Availability of wealthy items and standard.
Dissipation
factor

Time
Content

Operating
temperature
range
Rated
power
at 25℃
4.5(mW/℃)
50(sec)
-30~+125℃
36 (nW)
[APPLICATION]
◇ Temperature Compensation for trensistor and
variouselectric circuit of transistors.
◇ Detection and control of temperature for
air-conditioningequipment.
◇ Delay circuit such as relay
[DIMENSION]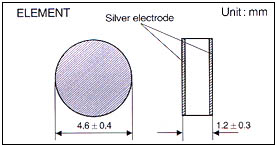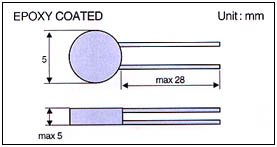 Part Number

Resistance
25℃

B constant
(25℃/50℃)

Temperature
conefficeint
25℃(%℃)

FTD5-090K31J
90Ω
3,100K
-3.49
FTD5-110K31J
100Ω
3,100K
-3.49
FTD5-120K32J
200Ω
3,200K
-3.60
FTD5-130K31J
300Ω
3,100K
-3.49
FTD5-150K38J
500Ω
3,100K
-3.49
FTD5-210K38J
1KΩ
3,820K
-4.30
FTD5-215K39J
1.5KΩ
3,900K
-4.39
FTD5-220K37J
2KΩ
3,700K
-4.16
FTD5-225K39J
2.5KΩ
3,900K
-4.39
FTD5-230K39J
3KΩ
3,900K
-4.39
FTD5-310K39J
5KΩ
3,950K
-4.43
FTD5-320K42J
10KΩ
4,230K
-4.75
FTD5-330K42J
20KΩ
4,280K
-4.78
FTD5-350K44J
30KΩ
4,470K
-5.03
FTD5-090K44J
50KΩ
4,440K
-4.99
FTD5-410K44J
100KΩ
4,470K
-5.03
FTD5-415K45J
150KΩ
4,520K
-5.08
FTD5-400K45J
200KΩ
4,590K
-5.16
FTD5-430K46J
300KΩ
4,690K
-5.28
FTD5-440K47J
400KΩ
4,770K
-5.37
FTD5-447K47J
470KΩ
4,770K
-5.37